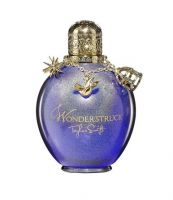 Sickeningly sweet

I've heard some people say that they like this perfume, but their reasoning seems to be more that they like Taylor Swift and/or the packaging of her perfume. Scent is so subjective so some may absolutely love this, but it was so sweet I couldn't stand it. This is like cotton candy, except SWEETER. It smells really juvenile. I love young, fresh scents but this just wasn't it. The packaging is ...read morealso quite tacky. Even if I liked the perfume enough to buy it (I tried a sample of this) I would be embarrassed to display the bottle on my dresser. I think Taylor Swift should have it with the perfumes because there is obviously a huge demographic that loves her and would support more perfumes from her. I just think it should be something more wearable.

Wanted To Love It

I adore Taylor Swift and waited excitedly for the release of this fragrance. I was certianly expecting something young and sweet, but not preteen sweet. It smells exactly like sweet tarts to me, and watered down sweet tarts at that. On the multiple occasions I've worn it, I can't smell it after an hour. I give it three stars because it dosent smell BAD, and the bottle is awfully pretty. Maybe Tayl...read moreor's next fragrance will be a little more of a home run for me. I look forward to giving whatever her next fragrance is a try!

Love this...

I rotate between a lot of scents and I really love this one. I started wearing it in the fall of last year. This year when I spray it on it reminds me of last year! Although it does disappear to me in a few hours, I'm constantly getting compliments on how good I smell!
Back
to top