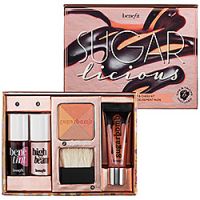 Benefit Sugarlicious Kit Lip & Cheek Kit
As low as
Remember, These are Sample Sizes

There are good and bad things about these kits. They are usually $36 for 4 sample size products. The good thing is that you can test drive a product before you buy it. Also, the kits are small enough to fit in your purse. But, also bear in mind, you can test the products in the store as well. So, weigh the price of the sample sizes against one full size. I gave this a 9 based on the quality ...read moreof the samples. Benetint imparts a slight flush, which you apply with the built in brush, and you must blend quickly and lightly before it dries. High Beam is a vey good highlighter. It is applied with a built in brush, and again, you must blend quickly by dabbing it with your finger tips. With both Benetint and High Beam, if you slide your fingers over the product to apply, it will rub off. Sugarbomb is a very good blush. It is comprised of 4 warm colors...light orange, light coral, darker coral and bronze color. When you apply all 4 colors at once, you will have a nice, soft looking blush that is warm-toned. The gloss is nice, and can be used over Benetint on the lips. The brush, however, is a joke. It is too small to apply the blush, and it is also very coarse. I recommend this, but beware of the caveats above.

Another great sample kit from Benefit

I love Benefit because they offer a lot of sample sizes and sample kits to try and sample kits are a cheap way to try high end products. The bronzer is the perfect color. It does have a bit of shimmer to it but its not over done. The only this I didn't like is the lip and cheek tint but I will leave that for another review. The products all work together great but you can also mix and match with ...read moreothers. They all are nice for a luminous sun kissed natural look. It comes in a box that is easy to carry around and just cute.
Back
to top