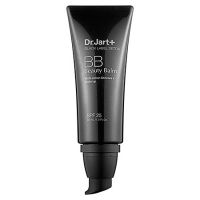 Dr. Jart+ Black Label Detox BB Beauty Balm
As low as
Thick, Dark, and Heavy!

Dr. Jart+'s "Black Label Detox Beauty Balm" has a lot of good things going for it. It has an SPF of 25, great for all women. It contains aloe vera, green tea, and portulaca oleracea to soothe skin, while caviar purifies your complexion and regenerates. Arbutin works to brighten discoloration and hyperpigmentation. I was sure I would love it--but I was sadly mistaken. It comes in a "universal"...read more shade supposedly meant to enhance all skin tones. I found the color very artificial on me, leaning toward an orange. It is thicker than I expected. It covered imperfections, but I felt a "cake-like" coating on me. It did little to disguise tiny lines and wrinkles. I agree with the reviewer below me. If you want to use this, ask for a sample before buying the product.

The best BB cream

Wanting to get the "real" stuff, I ordered this from South Korea as a birthday gift to myself. It wasn't cheap, but it was less expensive than buying it from Sephora here in the states, so I was happy with that, even though I was taking a gamble getting a facial product sight-unseen. When I recieved it, I knew from reviews by ladies who know these products that the cream was supposed to be thic...read morek, it is. It's creamy with a stiffer, gel-like texture. The trick is to squeeze it on your hand, dab it on your face liberally, and then start smoothing it out all over your face. It self-adjusts on your skin, and brightens dark circles. This product covers redness and reduces the visibility of pores. Yes, it takes a couple of tries to get it to spread right, but dang, this is my go-to product. There is nothing better than this BB cream for daily use, and it does get used. My holy grail.

Good coverage-Application too thick and dry

After testing a sample of this product twice, I decided this product is goes on a bit too thick and dry for my liking. The coverage is good, but I prefer a product that is less "obvious". It goes on rather dry and matte, which I don't find to be the best option for fine lines and wrinkles, and the shade was too beige for my fair skin-tone. However, this product receives very good ratings on othe...read morer sites, so take my review with a grain of salt. The best advice I could give is to purchase a sample size before committing to the full price tag.
Back
to top