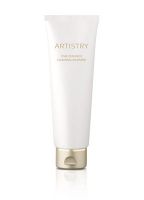 ARTISTRY Time Defiance Cleansing Treatment
Works as promised for a high price

At 125 ml / 125 g / a little over 4 oz, this cleanser rates pretty well in my book. I tried to figure out how much it costs back when I got it, but looking at their website it seems to be pretty high for a cleanser. It costs more than the facial cleansers and scrubs offered from other various drugstore brands. It comes in an easy to squeeze white tube and the whole tube lasted me for about 3 month...read mores for daily usage in the morning and at night. The consistency is a clear gel, like most hair gels. It lathers up really quick too. To use, I just wet my face and squeeze a small amount on my palm to apply it on my face in a massaging motion. I wash it off and dry my face with a towel in a patting motion. It's very easy to use and works really well as a facial cleanser. It's very mild in my opinion and does a great job in removing all dirt, oil and impurities. It cleanses really well without drying my skin at all. This is very safe to use daily. The price may be its downfall for me. I do love it, but I probably won't be purchasing this again unless I get a great deal on it. I mean, over $30 for a facial cleanser?! Yeah.
Back
to top