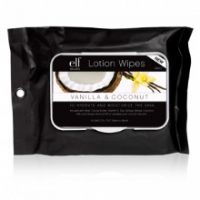 e.l.F. Cosmetics Studio Lotion Wipes
As low as
Delightful Exfoliating Mini-Spa Treatment with Each Use

These are some of the most enjoyable wipes I've used. They have a gentle citrus scent (I wish they smelled like Ole Henriksen's, as they're identical to Dreamsicles), but the cloth itself has millions of microscopic nubs to exfoliate your skin as you wisk away waterproof makeup, grime, and oil with ease. The cloth will not irritate your delicate skin, but gently gives you a mini-spa beauty treatment with each use. Genius!

Feels a bit too wet

The concept for these wipes is simple, basically it's a moistened wipe that looks and feels exactly like makeup remover wipes, however you wipe it onto your body and it's supposed to make your skin feel smooth and hydrated as if you just applied lotion. Here's what ELF says about this product: "Hydrate your body with silky smooth moisture. The light and airy lotion moisturizes your skin, keepi...read moreng it soft and supple all day long. These convenient Lotion Wipes are great for on-the-go travel and mess-free application. Just throw them in your purse or bag for soothing and refreshing moisture without carrying around a bulky lotion bottle." First off let me talk about the scent, upon first pulling out a wipe I did notice a very nice sweet mango scent, once applied onto the skin the scent was barely there, once the product dried the scent almost completely went away; this is something to think about if you're one of those ladies that applies lotion only because you like to smell good. Now onto the application process: I first used these wipes on a hot sunny day, I was really sweaty and these wipes felt very cooling and refreshing on my skin. The wipes are moistened enough where you can easily apply this all over your arms and legs, and it does take about a minute to fully dry. Luckily once it dried my skin didn't feel sticky in fact it did feel very smooth. However, when I used this on an average day (at work actually) where I wasn't sweaty or hot and the wipes seemed too wet and took longer to dry and probably because my skin didn't need the hydration. Overall, I do agree that these wipes are very convenient and perfect for on the go, so having said that I prefer to use these wipes when I'm out on hikes and bike-riding basically on days where my skin is super hot and sweaty and I need the extra hydration and cooling effect, but on a daily basis I prefer regular lotion that doesn't feel as "wet" as the ELF lotion wipes felt. These regularly go for $3.00 but I purchased them for $1.50 since I had a 50% off coupon; the package comes with 15 wipes and they do have other scents such as coconut, honey, cucumber, etc.
Back
to top