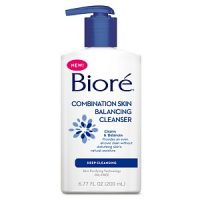 Skin Balancing Cleanser

I found this cleanser on sale so I decided to try it out and it worked very well for me. I will start off by saying that this cleanser does have a strong scent. Though I am not sensitive to scented products by any means, I was actually a bit worried it might be drying or make me break out-- that is how strongly scented this is-- but I ended up having no negative effects on that end. The scent fade...read mores away from the skin quickly after you have rinsed the product off. It is a pretty scent (clean and kind of floral), but pleasant as it may be, soemtimes I just don't want something so perfume-y. If you are sensitive to fragranced skin care items, this product may be one you will want to skip-- or at least find a sample of before buying a whole bottle. Now, the good: I purchased this during the winter season when I had dry patches on my chin-- and I mean *very* dry, to the point of cracking. I thought this cleanser was worth trying out because even though I sometimes get seasonal dry patches on my chin, the rest of my face (especially my nose and forehead) can get oily, so I still wanted something that would help with oil and not exacerbate the dry spots. This happened to work well for that purpose. It didn't bother the dry patches so they healed up pretty quickly with the use of moisturizers. It is a gentle cleanser-- I use this cleanser twice a day and it does a good job at removing excess oil without stripping away too much oil from the skin. It does not make my skin feel tight or dry the way some oil control cleansers have done to my skin. In fact, this leaves me skin feeling normal. It does a pretty good job at removing makeup as well although, I do use this product along with an oil cleanser when I remove makeup so that may be why it is so effective. I also really like that it is packaged in a pump. All in all, as good as this product is, I plan on looking for something with a less aggressive scent to it instead of going right back for this product.

Will Not Re-purchase

I have oily/combination skin and this cleanser does an ok job for me. It's a gentle cleanser that does not strip all the oil from the face (hence no tightness after use). Has a great scent and leaves a cooling sensation. HOWEVER, I seemed to be getting a little more breakout than usual after about 2 weeks of use. Will not repurchase this product.

Nice cleanser

I found this cleanser to work well on my skin and have no issues with it. It doesn't work wonders but it gets the job done the same as any other cleanser! Overall I do like this cleanser and I have repurchased it.
Back
to top