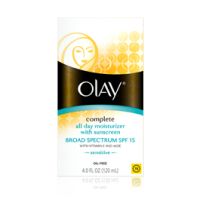 Olay Complete All Day Moisturizer with Sunscreen Broad Spectrum SPF 15 - Sensitive
As low as
Great but could be better

I've been using this moisturizer for well over 4 years. I wash my face in the morning put on a layer or two of this and then makeup. There are different kinds of this product but I find this one best. It doesnt break my skin out but hydrates quite well. Plus there's SPF 15 so I'm not going outside with no protection on (and I'm a freak about SPF). This product could be made better by a higher SPF but I'm pretty happy with it as is.

Gentle on skin

I needed a daily moisturizer that wasn't too harsh on my sensitive skin, while providing me with some level of sun protection so I decided to try this out. I apply this moisturizer on my face and neck every morning before heading out. The formula is lightweight and is easily absorbed into my skin. It doesn't make me break-out either. It's not the most hydrating compared to other facial moisturizer...read mores but the good thing is that it doesn't have a heavy consistency. I'm not too fond of the scent though.

Very gentle and effective

This formula for sensitive skin (no fragrance or oil) is about the only moisturizer that calms my sensitive, allergic to everything skin down. It has SPF15 in it, so in the morning, I use it on my face and neck. Before bed, I use just on my neck and just a little on the rest of my face. A few things I've read regarding skincare advice seem to indicate that SPF isn't that great to use at night and that you should be letting your skin breathe.
Back
to top