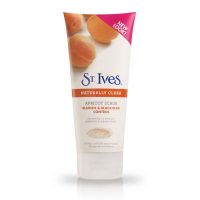 Smells good BUT....

All St. Ives products (that I've tried and I have tried a lot) makes me break out like crazy! In my teen years, I suffered a lot from acne and I wanted to try every kind of face wash or scrub that could possibly help especially when the name says anything about acne or blackheads. I was drawn to this name because it's supposed to "clear blemish." NOT! I broke out even more and this scrub was so ab...read morerasive that my skin was red by the time I washed this off. The scrub in here is not like those kinds of scrubs that "melts" away as you cleanse. I believe it's crushed apricot seeds. Now I don't consider my skin to be sensitive at all but this was just too harsh on my skin and that's probably what led to more acne on my face.

Keeps Blackheads at Bay

I think when it comes to blackheads, I am in the worst position. My pores are tiny, which is nice, until I get blackheads in them. Then, my tiny pores makes treating blackheads nearly impossible until I found this scrub by the recommendation of a close friend. I love how much product you get for the price, and it really makes a difference. I have noticed less blackheads, less oil, and smoother, softer skin. Love it.

Awesome!

This product is amazing. It leaves my skin super soft. I only use it 3-4 times a week. I dont know if its because of this, but i have noticed i break out less. Oh! and this just smells fantastic. Ima for sure keep buying this product.
Back
to top