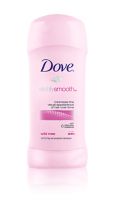 Great smell!

So far this has been my favorite deodorant. I have noticed that it has minimized my hair slightly but I really wasn't expecting too much of that. The best thing about this deodorant is the scent. Its really soft and girly. I just love it. It keeps me smelling fresh all day. I haven't had any wet rings since I started using this and its in the high 90's where I live. I will repurchase this when I finish this one.

Love it!

I love this deodorant. About a week and a half to two weeks after I began using this product, the black spots underneath my arms from the hair was fading. (My hair is black and I have very fair skin) Now, it's been about 2-3 months, I still have a lot of deodorant left, and it's white and smooth underneath my arms. Plus, it seems like it takes a tad bit longer for the hair to grow back too. The smell is great and not overpowering.

Baaah... Its okay

I've been using this product for quite a while now and it doesn't really minimize the appearance of hair. I mean , maybe a little bit but its barely noticible. But it smells good.
Back
to top