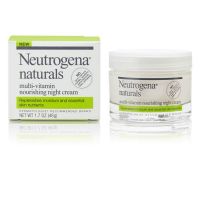 Been using this every night

I recently just purchased this and i am obsessed! I love this stuff. It smells great! It is very moisturizing and easy to use. I love the packaging and the results i have seen. My skin is completely hydrated and supple. I also see a decrease in redness, enlarged pores, and my ance discoloration has also declined. I love this! I will probably be repurchasing this when i run out!

Not for sensitive skin

I had a somewhat bad reaction to this, my skin got flaky/peely. If you know you have sensitive skin, I would avoid products with a lot of natural ingredients...simple is usually better. On the other hand, this stuff smells great and my skin felt super soft and supple immediately after applying.

Great night time moisturizer

I bought this on a whim, but I'm so happy I did. I wake up with soft skin not oily and it feels really good. It doesnt clog my pores and does not irritate my skin at all. Really great moisturizer for nightime.
Back
to top