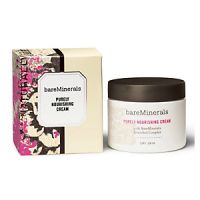 bareMinerals Purely Nourishing Cream: Dry Skin
As low as
Quality cream

I've been using this on and off for two years. I have combination skin, but there are parts of my face that get dry to the point where they look wind/sun damaged in terms of dryness. This cream turns all of that around in a short period of time. Applying this only to the really dry areas of my face, I get more than 12 hours of rich moisture and my skin heals quickly than to that. I'm generally not...read more a fan of jars of cream, but I find that using a Q-tip to apply, instead of my fingers, makes me worry a lot less about potential cross contamination. This lasts a long time, so it is well worth the price. I highly recommend getting it in a set with the Purifying cleanser and the neck cream. The three products combined provide AMAZING results.

Yes Bare minerals !

I have dry combination skin with a very fair complex and pink undertones. With that being said, i found this Bare minerals purely Nourishing Cream for Dry Skin gives me a beautiful glow while moisturizing my skin. I noticed when i first started using this which was about 6 months ago, i found my skin with not only a glow and moisturized but i had less redness and acne. I am not sure why the rednes...read mores and acne stopped on my face while using this because that is not what this product is for so i was a bite shocked. Other than those benefits from this product i really liked how it does not have a smell. I feel it has a silky thick touch to it which is nice because to me it is a serum plus a moisture cream as one. I also would say you do not need a whole lot to use on your face and neck. A little can last a long way whether you have very dry skin to dry combination skin. Even if you only use at night which is what i did because it was so rich and creamy, it really does still give you a nice moisture to your skin. I honestly think that is all you need anyways is too use this at night because i do not recommend using this underneath make up. I have tried using this under make up and because this moisturizer is so rich and creamy it does not work well with powders or liquids i believe. When i used a powder which was the bare minerals SPF powder in fairly light, i found my make up would ball up and stay on well. When i used a liquid foundation which was NARS in Mont blanc sheer matte color, it was not as bad as using a powder coverage but i still got the same effect in some ways such as balling up and making the foundation not stay as well as it should. I also noticed with using a liquid foundation, the moisture cream would not blend with my make up. Overall, It really is a wonderful moisturizer for dry skin types and most other skin types and lasts for a long time. My only slightly issue was i did not like to use this twice a day because it did not work well while trying to use this under my make up (liquid and powder) but the benefits of this gave me more time to use it.

Loved it but just too thick for me

Unfortunately, I had to take this back even though I loved it. I was having extremely dry and peeling patches on my face and this definitely did the trick. I LOVE Bare Minerals products and they work great on my sensitive skin. Even though it did exactly what I needed it to, it also made my face sweat as soon as I put it on. The first time I used it I just assumed it was because I was rushing to g...read moreet ready. Then I used it while getting ready for bed. I tried it for almost a week and every single time my face started sweating. I was really disappointed to have to take it back since it gave me such wonderfully soft skin without any sort of rash or breakouts on my sensitive and acne prone skin. I have used both of the BM face lotions for combination and normal to dry skin without any issues.
Back
to top