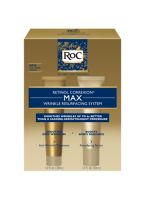 RoC RETINOL CORREXION MAX Wrinkle Resurfacing System
As low as
This stuff is great!

I have been using this now for a couple of months and have gotten so many compliments on my skin! I am almost 45 and I am hooked on ROC! I love how the two tubes work together, you use the anti-wrinkle serum first then the resurfacing serum. The 2nd one feels like you are rubbing silk on your skin, and this company has tons of research to back up its products. My skin feels firmer, sags less and is glowing. This is also a great buy for the money. I definitely recommend it.

Such a difference

I love this product! This past year I was having hormonal isses which caused me to have horrible breakouts that left me with discoloration and just not good looking skin. I seen the commercial and figured it was worth a try... I've been using it for 5 weeks now and I look at least 2 years younger. My skin has evened out, my pores look smaller, and my overall skin just looks so much more healthy...read more. I seriously look forward to putting this product on every night. I've never reviewed anything before but this is something everyone should know about! I can't say enough good things about this product.
Back
to top