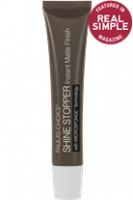 DAB lightly DON'T RUB!

I received this in my blush mystery box and I'm glad I did! This is always the last thing I apply whether I am wearing make up or just moisturizer. It's VERY important that you DAB the product and not RUB. Because it really makes a difference! I do think a pea size is way too much to use though. Maybe that's the reason other reviews say it doesn't go well with make up? Because I know I won't use m...read moreake up without this! A little goes a long way. And by little I mean apply product in the amount of a zit (that's how much I use) to oily prone areas, and dab lightly. Don't use too much. This stuff is concentrated.

Ok

Agree with previous two reviews, this does not work well under or above or with make up.

Too thick

It does the trick and absorbs the oil but when I apply the foundation , my face looks unappealing .. I bought a sample and I am glad I did not purchase the full size.
Back
to top