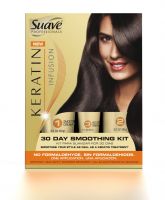 We can help......

Christiansen Davis Bullock, LLC is a Dallas law firm which has filed a suit on behalf of consumer's injured by Suave's Keratin Infusion 30 Day Smoothing Kit seeking damages for personal injuries to consumers by this product. As detailed in the Complaint, the product caused the women severe and possibly permanent damage to their hair, including hair loss to the point of visible bald spots, sev...read moreere breakage, discoloration and even burning of the scalp. The Complaint also states that this product claimed to be Keratin-based and formaldehyde free, suggesting to consumers it was free of dangerous chemicals. CDB understands that, in fact, the product's primary active ingredient is a chemical that straightens and damages hair. What little Keratin the product contains has little to do with the product's efficacy. The product also uses a formaldehyde releasing compound despite its claim to be formaldehyde free. If you have purchased any of the Products and/or are unsatisfied with the advertised results, we would like to visit with you as part of our investigation. Please contact to let us know by visiting our website

This is the worse product ever

This typical product ruined my hear, I used to have very beautiful hair and now because of this product I lost half of my hair, I would never recommend this product to any of my siblings or friends, even if some asked me on the road about this product I would say that this product is absolutely horrible and can ruin the natural beauty... ugh....

Loved the product

I used the suave kerative 30 day hair treatment about 3 months ago. I have very thick coarse frizzy gray hair that is color treated dark blonde. I love the product. It left my hair very smooth, straight, shiny, very fine feeling. This is the first time my hair has not been a problem. I have actually been able to have a cute straight haircut for the first time in my life. Looks great. I did not...read moreice that my color did not take as well so I just leave it on longer. My hair dresser loves the new texture. I have had my hair professionally straightened years ago and will never do that again. I am devastated it has been discontinued. I love the other sauve keratin products as well and will continue to use.
Back
to top