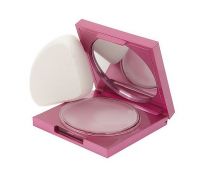 Pleasantly surprised....

I've never tried anything like this silicone looking stuff on top of my foundation before. Usually I head towards powder to set my foundation but sometimes they just don't do the trick for me. I have super huge pores and NOTHING seems to cover or blur them. Not even Benefit's Porefessional primer that everyone raves so much about. This stuff actually blurred my pores and makes my skin look poreles...read mores. I love how it also kept my oil at bay. It leaves my skin looking matte throughout the day. The only thing I don't like is that it makes my skin look cakey with this on top. Even though this is supposed to be a sort of "translucent" makeup, it whitens my foundation like crazy and in flash photography makes my face look white as a ghost. I prefer using this under my makeup as a primer instead of using it as a finishing powder. This was an impulse buy since Ulta had this as one of their steal on their 21 Days of Beauty sale and I figured since it was half off might as well try it and see. Totally recommend for people with oily skin and huge pores.

Love it!

Thîs product is absolutely wonderful, I no longer use powder.

Helps diminish pores

This product really does help diminish pores and controls oil. It gives my face a smooth finish. I was hesitant to purchase because of the price, but it's definitely worth it.
Back
to top