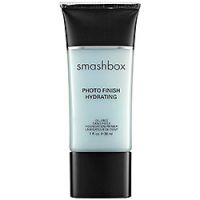 Smashbox Photo Finish Hydrating Foundation Primer
As low as
Not so much

I really like the Photo Finish Light primer so I was pretty excited to try out the hydrating version from the Smashbox brand. It is not so great. It is winter and my skin has been dry in large patches, so I thought my sample of this primer might help eliminate a step in my makeup routine. If my primer is hydrating, maybe I won't need to put on moisturizer AND primer! Not so much. This has somethin...read moreg of a chemical smell that I didn't love. But more importantly, it doesn't seem to be all that hydrating, and it has made me break out. I love Smashbox primers, but I still can only really stand by their Photo Finish Light version.

Happy I got to try it!

I received a three pack deluxe sample with my purchase of a Smashbox product and was happy to finally try this primer. The sample came in a clear .25 fl oz tube and lasted me for about two weeks so I was pretty impressed with that. After having washed my face and moisturized, I squeezed a dime sized amount of primer and rubbed it all over my face, focusing on my forehead and cheeks. It's a blue...read more, creamy primer that doesn't have a particular smell, it's a tolerable smell though. A dime sized amount was a great amount to cover my entire face. Then I did my usual makeup routine, BB cream, concealer, powder, bronzer, blush, eye makeup, and lipstick and it was still wonderful at the end of the day! No oil, no shine, and my makeup looked exactly as it did at the beginning of the day. I wasn't overly excited about this primer which was pretty disappointing. I'll use the other samples in the pack but will NEVER pay $42 for this primer. I have a bunch of other primers to try and already this hasn't been put on my favorites list. Sorry Smashbox!
Back
to top