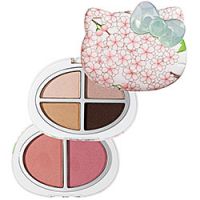 Hello Kitty Combination Sets
As low as
Cute compact but shadows & gloss don't last

Another impulse buy cause of how cute it is. It is a sturdy, cute compact but expensive. I guess cause it's a combo, but there's no mirror in the second layer of the compact for one thing. The shadows don't last long at all. They are okay for running some errands or a few hours out, but not all day. And never wear them on a hot, humid day-might as well wear no eye shadow. The lip glosses are...read more more disappointing. Though I don't wear the stuff, they come with the compact so I use them at times. Even though they appear to be different colors in the compact, they all look the SAME on my lips: They seem to have no pigment to them!! The scents are fun, BUT there's no taste to them anymore. I did taste of bit of the flavor for a couple of uses, but nothing after that. Plus, the gloss seems to disappear in an hour or so, even if I don't talk or anything. Some of the products in this line are probably better, but in this case it seems they were trying to get by with her image & shape of the compact. Until Sephora came up with this line, I never used their products. Drugstore brands like Revlon's Color Stay 12 hour Eye Shadow Quads have way more staying power.

hello kitty combination sets

I admit I did have a mild obsession with hello kitty. I agree with the reviewer's comments on the lip gloss; the colours looked exactly the same on my lips. The eyeshadow though we're a pleasant surprise! The colours looked very nice and natural. I have very oily eyelids but the product lasted well. So I am divided on my review. The eyeshadow for me were ok but the lip gloss and the messy packaging did not make this worth the price.
Back
to top