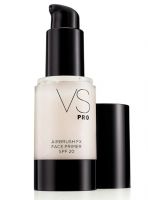 Good primer....

It was a pretty good primer. Made my skin feel so smooth and soft. The only bad thing is that the product is kind of runny. And the primer is not oil-free. At least that's what the sales rep told me since it's not listed on the packaging but despite that, it didn't make my oily skin look or feel oily.

Just arrived

I just received this primer, and I have mixed feelings. My personal preference when applying primer, is that it is a little thick, so I feel like it is getting rubbed in well. It's a little runny, so it just dries up real quick. Not a huge deal. But I noticed when I put my makeup on top of it, my foundation did not spread evenly, like it normally does. It seemed to "cake" up in certain spots, and ...read moreit hadn't done that before. It could be my foundation, or the primer, or my skin. Who knows. But I don't plan to change my HD Foundation any time soon, so I will have to go with another primer. I am sure it is fine for someone else. That is why everyone is different!

Amazing!

Got a little test tube for Christmas, I immediately bought the full version! In love!
Back
to top