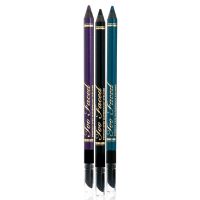 Too Faced Perfect Eyes Waterproof & Tearproof Eyeliner
As low as
Really Love this

I purchased this eye liner in the Too Faced Beauty BFF set, which I originally bought because of the bronzer and I was pleasantly surprised to find a full size eye liner in there as well. I usually use the Kat Von D Tattoo Liner, because I love how soft the pencil is and I was surprised to find this just the way I like it. When I first opened mine I found the cover hard to get off and I ended up...read more breaking the point off my pencil, but upon sharpening it, the liner was as good as new, looks just as if I have opened it up and found it that way (which is big in my book!). Upon application I found this pencil glides right on, nice a smooth it gave me a perfect line in the first stroke and I did my water line with one motion as well. And it stays! Did I mention it stays??? My eyes were beautifully lined all day and into the night. The one thing I wasn't thrilled about was the smudger, the hard plastic reminded me of a cuticle pusher but I warmed up to it when I figured out how nicely it worked (I don't use a smudger much any ways though). The black is a true pure black as well, very carbon. Oh and it really is water proof... not pillow case proof though :).

Long Lasting Eyeliner and Beautiful Color

UPDATE: This is weird but has happened with other products before, where the tester is higher quality than the actual product I purchased; or I just developed a reaction after a few uses. From the second time on, of using my purchased eyeliner, it kept melting/smudging onto my soft contacts and blurring my vision to where I can't see! It's also always on my right eye so I guess it happened beca...read moreuse of the shape of my eye. And even after removing my contacts and continuing to wear the eyeliner for the rest of the day both my eyes became extremely irritated after about 6 hours of wearing this eyeliner. I hate to give this up but I've never had any reaction to eyeliner before. ORIGINAL REVIEW: I got this in Perfect Storm, a silvery charcoal. This shade is also vegan; although toofaced website lists this eyeliner as vegan, not all shades are because some of the shades have carmine. This is very long lasting. I noticed it faded some after around 6 hours but it did not smudge. I took a nap after that and it still looked great. I used it on the upper and lower rims of my eyes. The silvery charcoal shade also gives a brighter effect than a matte charcoal as with a lot of eyeliners. The rubber smudge tip is not effective for smudging, rather it takes the eyeliner off instead. Made in Germany.

amazing

this stays put allllll day ! you will love it.
Back
to top