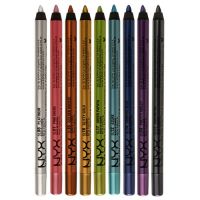 In love!!!

I got this in Jet Black. I really like how this liner is the perfect amount of smoothness without it slipping too much like the Milani Liquif-eye when I'm applying. It's perfect for on the go when I'm in the passenger seat applying eyeliner. It's not as intensifying as the Milani black eyeliner but it stays put all day without smudging on me. I was impressed that it didn't even run or smudge on my waterline. Plus it's easy to remove with my daily cleanser and eye makeup remover.

Awesome eyeliners

I give this 9 out of 10 stars, just because Milani liquify are a tad better. Regarding colour selection, I'd give it straight 10 stars, I have 5 shades so far and would love to purchase them all. Like the Milani liquify, they glide on without a problem over the lid and after they've dried, stay on all day long. My favourite colour is "Purple Blaze".

NYX SLIDE ON EYE LINER CAN'T BE SHARPENED!

I bought the NYX Slide On Eye liner in the purple shade tonight and I now have to return it tomorrow because I tried to sharpen it with three different drug store sharpeners and it was very difficult to sharpen and it ate up some of the pencil and broke the point off! It's a waste of the product and the money! So people on any make up review sites that say it's difficult to sharpen are so right! ...read moreHow does anyone sharpen it? I recently got a blue eye liner pencil from another brand for a dollar and some change that sharpens perfectly well!
Back
to top