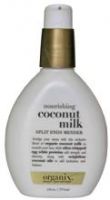 Smell is great!

As with all organix products the smell is fantastic! It isn't great for split ends necessarily, but is still nice to use sometimes.

Love it

Lets just get this out there. I have VERY damaged hair from dying it over 10 times in 1 year, which includes bleaching the ends and under side of my hair. This stuff repaired my hair, and made it silly smooth. I love this stuff.

Not impressed.

I was disappointes with this product. It doesn't mend my split ends. But on the bright side, it smells delicious, and it makes my hair somewhat softer.
Back
to top