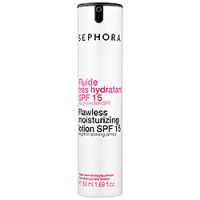 Sephora Flawless Moisturizing Lotion SPF 15
As low as
Flawless is an overstatement

I just cannot get behind this lotion. I think it is incredibly overpriced for under 2 ounces. It moisturizes decently and has SPF (yay!), but I don't think it's any better than my usual Olay Complete. This made me break out within the first day of use, I think due to the fragrance. If your skin isn't particularly sensitive to fragrance, this will be a better choice for you (it is a pleasant smell!...read more). I will say that the "light-reflecting pigments" do not create an obvious shimmer, so no worries there. Still, I think you're better off with any number of drugstore lotions (Olay Complete, Neutrogena Oil-free Moisture, etc.).

Amazing

Somehow, whenever I use this product, my skin tone evens out, my acne calms down, and my skin glows. Although this is just a basic moisturizer without anything fancy, I find that it works best for me. Typically thicker moisturizers upset my skin, and I find this thinner product calms my skin and shrinks my pores. (18 years old, normal skin, caucasian)

Meh...

It moisturizes well, but it does leave a slight greasy film on the surface of your skin. Recommended for oily skin types by Oprah's website, but this is just not it. I feel like more oils generated on my skin than normal when using this... It's great if you have dry skin, but if your skin is oily... steer clear.
Back
to top