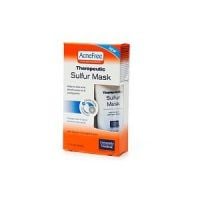 Not as good as I wished but ok

I used this on my skin a couple times and it didn't do very much for clearing it up, on my chin, although it did dry the zits on my sons back and neck.

Great acne mask!

I tend to break out a lot around the time of the month, so this mask is a lifesaver. I'll have some huge, ugly pimples and by the next day, they will be a million times smaller! The smell might throw some people off since it is kinda strong, but trust me, this product works! The mask tingles a little bit, so if you do not enjoy a tingly feeling from cleansers or masks, stay away from this product....read more After I wash off the mask, my skin instantly feels tight, soft, clean,and I feel as if my pimples are already starting to get smaller! I just want to say that since this product has sulfur, I recommend using a nice moisturizer after since sulfur can be a bit drying, and that is another reason to not abuse this product (or your skin) by using this too many times during the week. Other than that, I highly recommend this mask!

Exclusively from the editors at Total Beauty

Get the Buying Guide to see these top-rated products!

Get it now »

Great buy

I love this product it's one of the few products I've found that helps clear my skin when I breakout!
Back
to top