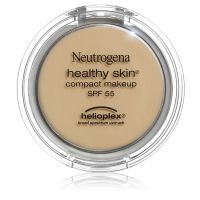 SPF is nice

This certainly wasn't the best foundation, but it wasn't the worst. The spf was great! I used this while in Italy, and I never once got sunburned! It is not a foundation that I would use on a daily basis, but it was useful for what I needed.

Neutrogena healthy skin compact

I live in the Caribbean and have an 'olive skin' complexion. I use sunscreen everyday and apply every 2 hours. All the products I have used leave my skin greasy with a white film. This compact protects my skin and gives me colour. Personally I wouldn't use it instead of a regular foundation but rather, first and foremost as a sunscreen. It does sting very slightly but I have this reaction with all sunscreen products, however it doesn't sting nearly as much as sunburn.

Thumbs Down

I bought this because I liked their other healthy skin products and it disappointed me. It was kind of hard to apply first off. Then it didn't last very long at all. It made my skin look very oily and I don't have oily skin.