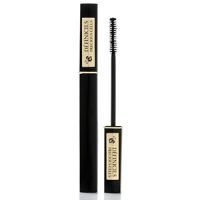 Love it but

This is a great mascara!!! I think it is over priced, and I just can't justify paying that much for a tube of mascara, but it is a great product!

expensive stinky mascara

This mascara is probably one of the worst I have tried, and what makes it even worse- it is waaay too expensive. First of all, the smell is horrible! Strong and "chemical-y", no product you put on your face, especially near eyes should smell like that. That's where I should have stopped my relationship with this mascara, but I still decided to try it. The smell stayed with me almost all day. The b...read morerush is pretty rough- with longer bristles on two sides, and longer ones on the other 2. I had to spend A LOT of time on application to make my eyelashes look decent, because with a first coat they looked like spider legs (my lashes are naturally pretty long and full), so I tried to build some volume with more coats. To cut it short, I didn't manage to get much volume or length for that matter, but certainly got some weird clumps, and the lashes just looked weird. To top this off, the mascara irritated my eyes, must be that horrible perfume they add to it, never had mascara make my eyes itchy before. The product wasn't expired, and I got it at Lancome's stand in Lord & Taylor, so it wasn't a fake either. Just a bad product Lancome came up with. I don't recommend this to anyone, I can only recommend to stay away from smelly eye-products, I don't know why someone might want whatever they are trying to cover up in their eyes. And most certainly will not repurchase. Back to old good Voluminous...

Long lashes

This mascara is making my lashes grow!!!!! Ever since I started using this mascara my lashes have grown and gotten stronger. People are always asking me if I have false lashes on.
Back
to top