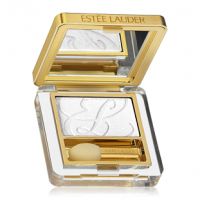 Editor's Rating & Review
Flaws in wearability and packaging dial down the appeal of Estee Lauder's Pure Color Eye Shadow, which otherwise lives up to its name by depositing strongly pigmented color where you swipe it. Apply carefully as the shadow doesn't blend easily and tends to stay put. While this means hardly any creasing, color can still fade quite a bit by the end of the day. The sleek, small compact comes with a mirror and sponge applicator for touch-ups, but the clasp can be difficult to open.
Reviewed by Sarah on 01/14/2009

How we review products
Lovely, but Uneven Pigmentation

I've already established that I am addicted to eyeshadow palettes. There are few companies whose palettes I haven't used; Estèe Lauder remains among the leaders in quality of classic cosmetics, skin/body care, and fragrances. I have purchased several of Lauder's "Pure Color" palettes and have a "lukewarm" love affair with them. The color range is absolutely fabulous--everything from neutral, n...read moreatural, barely-there shades like "Ivory Slipper," "Sandbar Beige," and "Riviera Rose" to show-stoppers like "Lavish Mink," "Noctural Blue," and "Emerald Star." In theory, they should be sheer perfection. They are silky and long-lasting. They are from Lauder. They are available in both matter and very wearable shimmer formulas. But I have a problem with different pigmentation with various hues. Some colors are so buttery that they practically apply themselves and blend seamlessly. With others, I find myself using my best eye shadow brushes and still not obtaining the amount of pigment I want. This is a shame, because I should be able to create a plethora of various looks blending the colors in my palettes. However, I too often find that I use Lauder shadows in combination with other brands to get a smoky eye or even a good neutral eye look. They have such potential; I just can't understand why Estèe Lauder doesn't ensure that every shadow is equally pigmented, especially when they are named "Pure Color."

TERRIBLE

I have these shadows in Clouds, Ivory Slipper and Wild Sable all of them are matte, and powdery. They need a lot of building just to show up, the pigment is terrible and the fall out is even worse. They crease terribly and it looks like you applied chalk to your eyes not eye shadow. I can buy an eyeshadow of a dollar that would be better then these.

Very nice for natural looks

This is very nice lasting shadow that is pigmented and great for natural, classic looks. It does not irritate sensitive skin, wear off, or crease. The colors are very easy to apply and blend. It is a bit expensive and have tiny applicators that are awkward to use. I have "Riviera Rose" which reads as a mostly flesh color with a slight hint of pink. It has a soft shimmer to it which makes it great as a highlighter.
Back
to top