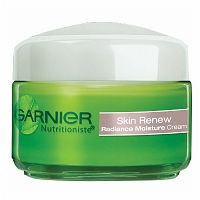 I love the Garnier skin care line....

Their products seem to be the only brand my skin doesn't break out from. I've tried all other brands (St. Ives, Neutrogena, Clean & Clear, Noxema, Biore, Clearasil, etc) and for some reason Garnier works for me. This product absorbs fast and that's the plus side but I don't like how it doesn't moisture my dry winter skin. The fragrance is also a little bit too strong that it burns my eyes so I try...read more not to apply it too near my eyes. I also like how its nongreasy. It doesn't make me look shiny. I just wish it moisturizes better and to tone down the fragrance.

Doesn't moisture.

It doesn't moisture at all, but the gel texture is good.

Disappointed

I wouldn't recommend this product for those with dry skin. I have been using it for about a month now, and my skin as seriously broken out.
Back
to top