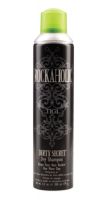 Not much for the price!

I expected a lot more from this product. It smells nice (orangey), and of course turns your hair grey upon application. Just brush it and it isn't as gray. Not the best I have used, and get few uses out of a $20 can.

Just no

Instead of writing why not, I will just say try this: Pssstt dry shampoo Oscari Blandi Pronto Dry Shampoo Powder Oscari Blandi Invisible Dry Shampoo Spray BABY Powder! Bronzer! anything! Ohhh ps-they have the tendency to sell these cans way less than full. Buyer beware.

Not Enough Bang for Your Buck

I recently cut my hair from almost-waist-length to just past my shoulder. I used to wash my hair everyday and just started using dry shampoo to train my hair not to be washed that often. I'm currently washing every other day. This is the first dry shampoo that I've used. It smells pretty good so no complaints there. It does leave a white powder behind sometimes, which can be tough to fix. Dry s...read morehampoo is supposed to absorb the oils from my scalp, but I find that my hair is oily and clumping by the middle of the second day. This makes me want to wash my hair by the end of that day. The amount that you get isn't worth the price you pay either. I purchased this at a salon because my stylist had recommended this to me. I paid more than $20 for it and it's about to run out, when it's only been about 4-6 weeks. I mean, it's my first time using dry shampoo but I think it's supposed to last longer than that! Going to try the Oscar Blondi Dry Shampoo next after reading some of the reviews below. Will see how that goes!
Back
to top