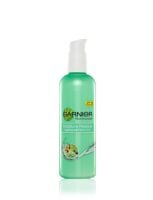 Does the job

It really is a lightweight moisturizer. I suggest using this during the spring/summer months. It has a wonderful texture and during the summer is just enough to moisturize without leaving your skin feeling parched. I have been using it lately, since October, and I feel like I could use a bit more moisturizer on my skin. The reason for the 7 stars is that it only has SPF 15. I would give this a ten if it had a higher SPF and was a broad spectrum.

lightweight and moisturizing!

i'm a fan of garnier's moisture rescue gel-cream, which my skin drinks up much better than other moisturizers i've used, that have felt greasy or heavy and still left certain parts of my combo-skin face dry. but this lotion's added spf caught my eye so i decided to give it a try - and so far so good! this moisturizer is lightweight as promised and sinks into my skin just as well as the gel-cream v...read moreersion, leaving my face soft and smooth, and fully hydrated (no more dry patches!) without a greasy feeling or an overly shiny t-zone. i'm a fan! a bargain at the drugstore and the bottle lasts forever! plus the you can turn the pump to "close" the bottle when you're on the go - no more accidental spills in your bag. perfect!

A good, basic moisturizer

This is just a good, basic moisturizer. It is very similar to the Cetaphil SPF 15 basic moisturizer that I have used extensively. It has a nicer smell, and apparently has grapeseed (an antioxidant) though I don't think it's in high enough levels to really make that much of a difference. It's great for my dry skin in the warmer months, but in the winter I need something a little heavier.
Back
to top