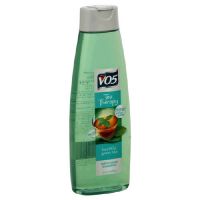 Alberto VO5 Tea Therapy Healthful Green Tea Shampoo
As low as
Cheaper and good

I normally use pantene, but every once in a while i would like to try new shampoos. Whenever I go to stop & shop/Walmart/other stores like these i always look at this shampoo. Since it is really cheap i was skeptical about it. There were so many options in vo5 too. I decided to try this tea therapy shampoo since it is cheap and if I don't like it it might not be waste of a lot of money To my wond...read moreer it really was good. Nice smell (not overpowering). Great lather. I didn't find any difference in my hair. But it still kept my hair fine, moisturized and soft.Most of all it is very cheap in cost but good in quality. I like the shape of the bottle but never liked the lid. Whenever the bottle falls down or if the bottle is stored horizontally it just leaks. One of my friend dropped it from shower caddy and the bottle was broken (of course the entire bottle of shampoo is wasted).But hey the shampoo is cheap. As long as the quality of the shampoo is good I don't mind much about the bottle for the very cheap price we pay.

currently using this

It does make my hair feel clean. Scent is okay. Good value. I have fine hair, and although this didn't moisturize it, I don't feel like it stripped it either, the way other inexpensive shampoos do.
Back
to top