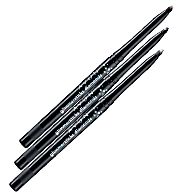 good eyeliner

this eyeliner is very pigmented. i like it because it goes on smoothly and has a hint of shimmer. the eyeliner did smudge a little bit after hours and hours of wear, but overall, i enjoyed it. the smudging wasn't so severe it looked bad.

Not overly glittery

These have a really nice sheen to them. You can see the glitter, but it doesn't fall off the eye and isn't too gritty. I really like this as the glitter doesn't get everywhere or get in your eye. The colors are also very soft, not gritty. The liners are pigmented and the mechanism is easy to use. I just wish they came in more colors.

Review subject

I don`t like it because of the packaging. You can`t sharp or give a think edge to pencil or eyeliner if it in this stick. Sure, it is well pigmented and smooth, but the line, that you draw, is very thick. If in usual pencil there are about 0,9 g of product, in this stick just 0,3 g. - three times less.
Back
to top