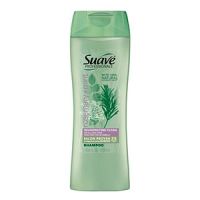 Awesome Shampoo!

I adore this shampoo! It smells great and it really cleanses my hair. I've used the Aveda version before and I had about the same results with suave. I also have the rosemary & mint conditioner and that works great as well. For $2.50 this is really great shampoo.

My favorite

I love, love, love Aveda's expensive version of this shampoo so imagine how excited I was when Suave came out with this one! I personally think Suave's is way better because it is thicker and cleans better. I'm not too picky about my shampoos and would much rather invest in conditioners. As long as my shampoos clean my hair and smell good, I'm good to go. Well, this shampoo meets both of these...read more criteria and then some. I would highly recommend, it. It doesn't strip my hair. It smells wonderful. I use it daily and it makes me happy every time I use it. Who could ask for anything more?

Okay shampoo

I have somewhat oily hair while it is thick. I have oily roots but dry ends from constant heat damage. I bought this shampoo because I wanted a good cleansing shampoo with a refreshing feel to eliminate my oil. This shampoo wasn't at all special. I washed with this and with sleek and shine garnier fructis conditioner but did not find good results. It left my hair feeling sticky and tangled especia...read morelly at the crown. It may be good for people with normal hair but it did not work great for me. The smell is okay and lingers in your hair. It is better than some shampoos but is not my favorite.
Back
to top