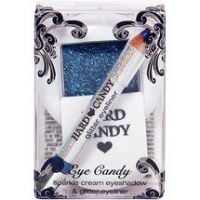 Not for adults

This would be fine for under 15 years old.

ammo and queenie

i have this cream in ammo a green color and queenie a dark purple. ammo is a really bright color and when i wear alot it makes ,me look like a mermaid. but, queenie is really pretty. both are really sparkly and do crease a little. so apply the cream then blink and wipe away the crease-y shadow. after you do that it stays in place almost all day.

It's not for everyone

I'm torn, it has it's pros and cons. PROS: The 6 colors available are really pretty, vibrant and glittery. I used the mini pencil( in flashy/silver) on my bottom lash line 2times per eye and saw more sparkles than I have with a lot of other eyeliners I have tried. This duo is inexpensive, between $4.00-8.00. CONS: The shadow is very glittery but has the tendency to be crease-y. However, blinking...read more a couple times and patting the lid after putting the shadow on seems to help the creasing and it will stay put for hours. Putting on too much shadow at once made my eyelids feel sorta heavy, and clumping is possible. Lightly pat the shadow to get a small amount of shadow on a finger. It's much simpler to slowly add more than it is to remove.
Back
to top