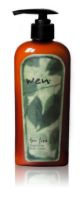 Wen Tea Tree Nourishing Body Lotion
Tea Tree Nourishing Body Lotion

I am a huge, huge Wen fan! I have not had a hair product that is not Wen on my hair in over two years. I'm loving this the Tea Tree lotion. It is all natural and this one has a invigorating tea tree scent but the consistency is a little runnier than I prefer. I am not saying this lotion is runny, but I like a thick body lotion, more like a body butter, but that is my personal preference. This loti...read moreon does moisturize really well, doesn't get greasy, absorbs quickly and easily, and smells divine. I keep a travel size in my handbag at all times! If you are looking for a product that is all natural and works really well, pick this up and while you are at it, try a cleansing conditioner for your hair as well! =)

NO happy with automatic charges

*** If it is a good product why to charge automatically. When you buy you are automatically delivered additional product every month an charged because people like me do not read the small letter *** Approximately 30 days after your first order is shipped, and then approximately every 3 months thereafter, you will be sent a new extra-large supply of WEN® Hair Care. For each extra-large supply se...read morent to you, you will be charged three monthly payments of $39.95 plus $4.99 for shipping and handling, which will conveniently be charged to the card you provide today unless you call to cancel.

Tea Tree Nourishing Body Lotion

I am a big WEN hair care fan and was not disappointed with the body lotion. Absorbs without feeling greasy. Is very wonderful and is natural.
Back
to top