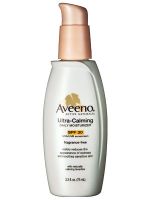 Greasy.....

I hate putting this on because it is really greasy. My face has an ultra reflective sheen after applying it on. It is also very thick almost like the consistency of a sunblock or sunscreen, making it hard to blend so the whiteness of the product would absorb properly. I bought this because it claimed to reduce redness but I find that it didn't do that. My face still looks the same so I have to use...read more green primer to neutralize my red undertone afterwards. Because it has SPF, I was hoping to use this during the summer months but because it makes my skin look super oily, I recommend using it during the harsh winter months when your skin seems to be more drying and then seal this with powder on top to diminish the shine.

Sunscreen That Doesn't burn

All moisturizers with sunscreen leave my reactive skin with a burning, stinging rash...except this one. The Feverfew (in same family as Chamomile) must have calmed my skin while leaving it soft and moisturized. I'm very impressed. And it actually turned my husband's sunburn on his bald head and my daughter's sunburn on her thighs from red to tan. After they burned! No peeling! It's a cream for the whole family!

Aveeno No!

I thought I might like this but my skin felt greasy after applying it. I even used the Clean and Clear oil absorbing sheets to sop up some of the oil. I'll stick to the ever trusty Olay.
Back
to top