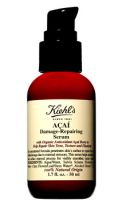 Kiehl's Acai Damage-Repairing Serum
As low as
A different option

I've been using this serum for 4 months on and off. It's a good serum. It's a clear light brown liquid, no silicone or oiliness feeling to it. It sinks in straight away, gets absorbed fast, but does not provide any moisturization. I finally realized that this is not an anti aging nor a hydrating/moisturizing serum. It is in fact a serum meant to help problematic, acne, breakout, skin types. I noti...read moreced that when ever I used it, it would help clear my complexion and keep it that way which is good in some ways. But of course at my age now 36, I need more than that. I would have to pair it with a suitable anti aging moisturizer. Otherwise it's a good option for those who need something to help solve and stop any further breakouts.

Better than others..

I have a very very sensitive skin with minute red bumps all over my face .Nothing has worked so far .Tried this cream and the feeling was very different ..it just seeped in within seconds and felt very natural .For the initial 2 weeks my skin did look and felt better .But i guess my skin got used to this cream as well and my bumps reappeared but to a small extent .So i continue to use it .I would recommend it for people with very very sensitive and oily skin.

Different but good

I was given the sample of this serum. After the third use i can see that my face looked clearer. This serum is different with other serums in the market i know coz it doesn't have silicone in it so it absorbed very fast into the skin, feeling just like wearing nothing. So i put another antioxidant moisturizer/serum on top of this. I will buy the full size bottle soon after i finish my old serum. Cos somehow i like the non silicone texture.
Back
to top