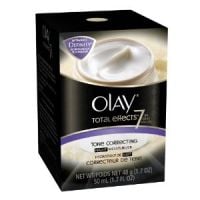 Best Night Cream!

I've tried a lot of different night creams and this cream works the best for hydrating my dry skin. My skin has never felt so smooth and supple. This is an awesome product!

Nothing restored & broke out

I didn't like the texture of this cream. Too slippery or slick. And itt sort of "sat" on top on my skin rather than absorbing well. Good thing it's for night, cause it has a sparkly, shimmering coating that would be too garish for daytime for ME. Nothing was "restored", and I later found out there's nothing in it to minimize/fade brown spots, just to cover them up with shimmer. Also, I broke ...read moreout in tiny, red pimples after a few days. Fortunately, they didn't last long. I think this cream might be discontinued soon, as it was on "closeout" at Rite-Aid, and not found at all at other stores I shop at. Also noticed they packaging it's in is not what it was when I got it, but THAT packaging is now used for something else. So I don't know if the Olay Intense Hydrating Cream is THIS same stuff, with the new name and packaging. I don't know what's going on!

Awesome!

I love love love Olay! and this is another reason why. First of all I love the smell of this night cream. It hydrates extremely well and leaves your skin glowing when you wake up. Awesome night cream!
Back
to top