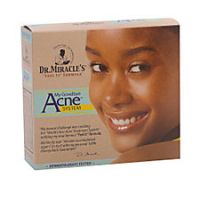 it works

It seems that this product isn't sold any where. I used to purchase it on eBay and now I can't purchase it and I'm out. My face did improve with Dr. miracle . I have used Proactive and it did nothing for me. This product is amazing. If anyone knows anything about where I can purchase this product let me know please. Tks

Amazing Product!!!!!!

I grew up with horrible acne and was introduced to this system by a friend. After using the product for a week I noticed a difference and after a month my skin was smooth with no acne!!! I love this product and I'm bummed that I can no longer purchase. SOLD OUT EVERYWHERE!!!!

Exclusively from the editors at Total Beauty

Get the Buying Guide to see these top-rated products!

Get it now »

About to try

I looked up all the ingredients on the bottle and not one of them is lye. The only lye is the one told by the above reviewer.
Back
to top