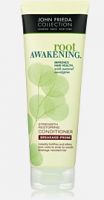 Works great on my hair

Just like their matching shampoo, this conditioner has a mild minty scent. I noticed that the results are much better when I leave this on my hair for a few minutes longer. My hair looks shiny and feels soft after using the shampoo and conditioner. I don't see any difference on my hair roots or scalp, but my hair certainly looks healthier and less frizzy. When I use this shampoo and conditioner, I don't even need my regular intensive treatment or mask routine.

Pass

This is an average conditioner at best. It smells like other John Frieda products with a tiny hint of mint. It left my hair shiny, but frizzy. If you must use the Root Awakening line, use the conditioner. Mint Oil and Eucalyptus are known skin irritants which does not bother me as much in the conditioner as the shampoo or detangler because it does not really contact my skin too much, just the ...read moreends of my hair and rinses out. But with the not so great performance and potential irritation and discomfort, why not try a different product altogether? There are much better, even less expensive formulations nearby on the drugstore shelf.

omg!!!

for a long time my hair was really dry and had a really burnt smell from my hair dryer (and i was using a heat protectant) but then i picked this conditioner up at Ulta (i had tried it once before) and it completely refreshed my ends and i also had purchased a new blow dryer but i had used the conditioner about 4 weeks before i got the new blow dryer. The shampoo just completely gave my ends a boost and smells like mint but is not overbearing!
Back
to top