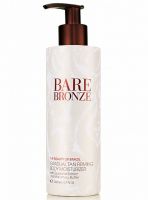 its fine

i bought this and tested it out on the tan lines on my feet from wearing flip flops. After a few days the tan lines were no longer visable. I did not expirence the oranginess of a fake bake. I am going to cotinue using this prouduct

By far one of the worst I've ever used.

This product says gradual tan, usually meaning after a week you'll achieve some color. I used it last night and woke up this morning to dark orange streaks and blotches all over my entire body. I am embarrassed to even leave the house it's so bad. Not to mention last night I was oily and it was uncomfortable to sleep with it on. This was such a mistake to buy.

Not really impressed

This lotion isn't any better than the stuff you can buy in the drug store... and it doesn't smell any better either. I don't think it's worth the money.
Back
to top