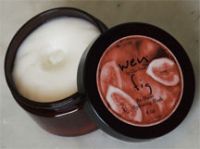 Wen Fig Re-Moist Hydrating Mask
too pricey for me

I got a full size container as a gift and while I was impressed with the results, for the price I can find a better alternative. I have really tried giving Wen products a shot, but after I am done with their products, will find something else.

ok, not great but not bad

I've used all the wen scents and I have thick, coarse hair and thought fig would be the one for me. It wasn't. The remoist smells exactly like Flintstone vitamins...which was weird, and was not that moisturizing. I would buy the pomegranate remoist instead--it is AMAZING.
Back
to top