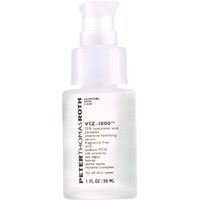 Great, but could be better.

If you believe the claim that this product is super-concentrated with 75% hyaluronic acid, you're in for a surprise. This product doesn't even contain hyaluronic acid (the natural substance used in some dermal fillers to plump wrinkles and facial skin folds). Rather, it contains the salt form (sodium hyaluronate), which, while effective as a water-binding agent, isn't the same thing as the m...read moreore potent (and expensive) hyaluronic acid. Despite that letdown, this serum contains plenty of water-binding agents that hydrate skin and improve its smoothness while preventing moisture loss. Viz-1000 (whatever that name means) is suitable for all skin types. However, there are many serums at and below this price range that offer skin a more well-rounded formula. And just to be clear, using any form of hyaluronic acid topically on your skin doesn't net the same results, in any way, shape, or form, as dermal injections of hyaluronic acid (such as the dermal filler Restylane). You can't just rub a dermal filler on your skin and expect to get a drop of benefit; it has to be injected.

No Hyaluronic Acid

I made an error in purchasing this product. I read somewhere it has hyauronic acid and that was the main reason for my purchasing it - WRONG.

Hydrating serum

This is great for hydration...after applying it felt like it dried on my face. It gave a tightening effect, and left my skin a little shiney. Great for dry winter weather.
Back
to top