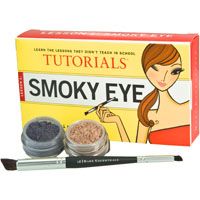 No regret!

Based on my eye shape and size, I was recommended to get The Tutorials I, not II. This Smokey Eye Tutorials came with Skyline eyecolor, Celestne eyecolor, and the best part of the kit - Double Ended Smoky Eye brush. The dark blue/gray Skyline compliments my brown eyes and shimmery Celestine color nicely. The design of the brush makes a smoky eye creation much easier. I have small eyes, so when a b...read morerush is big and too soft, my smoky eyes tend to look as if someone punched my eyes! But this brush allows me to control how much and how far I want to apply. My only problem creating smoky eyes with this kit is that the powders are quite loose. Without a primer AND without lightly dampen the brush end, the powders do not stay well for my skin. Once I found out a few tricks, I am happy with the results.

very nice

The colors are really nice and the brush is good as well you can do a dramatic Smokey eye or a more natural Smokey eye the only negative is one side of the brush is so small I usually use that end to add a highlighter on the inner corner of my eyes to make them look bigger and brighter.

Smokin!!

Absolutely loved the fact that it was Bare Escentuals, which is a brand I highly recommend, and it came with a great, easy to follow tutorial so that even someone like me, who is not exactly a makeup guru, could learn and look fantastic!
Back
to top