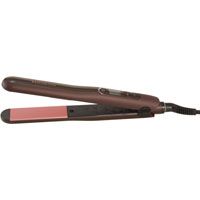 Remington T-Studio Sleek & Curl Flat Iron
As low as
Not Bad

This iron isn't as bad as people claim...it straightens alright and leaves it nice and shiny. True, it takes more than 30 seconds to heat up-really it's about 3 minutes- but it really isn't a bad flat iron. As for the curling, I haven't had much practice with it, so the curls aren't Hollywood-worthy, but not too shabby.

Too long to heat up!

This iron takes sooo long to heat up! It says it will heat in 30 seconds, but when I set it to the max temperature (430 degrees), I have to leave it on for over ten minutes until it heats up all the way! Another annoying thing is the power on button is located right where you would hold the flat iron, so I would always accidentally turn it off. You can lock the buttons, though, so it's not such a ...read morebig deal. It does an okay job with straightening my thick, course, naturally straight-with-some-wave hair.

OUCH

Yes this does leave your hair with a nice shine and straight...however, you pay the price with the tugging. It pulls your hair out when it gets caught in the corners of the iron!! OUCH!!