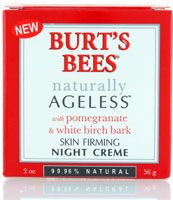 VERY moisturizing but appears greasy! LOVE IT!

I LOVE this stuff. After an endless search of finding a GOOD night cream I was recommended this by my grandmother (yeah I know!) And she told me to give it a try and if I didn't like it to give it back..well I havn't given it back! When you first put it on your face is glistening quite alot but by the morning it is gone (who goes out after putting on their night cream anyways?) It doesn't smell th...read moree best but usually the best stuff smells not as appealling! I am 23 and have after one week of usuing the night cream have seen a substantial difference in the increase of moisture in my skin as well as the fine lines! As well my grandmother would has a couple more wrinkles than myself has seen a diffrence. I would DEFINITELY give this a try for all ages!

Little bit sticky

I've only been using this product for about 2 months, and I'm still on the fence about it. It has a fairly strong scent that some may not like. I personally like the fruity smell that it has, and it isn't overbearing in my opinion. I don't know if I have noticed any wrinkle reduction because all mine are very fine lines and I haven't use this product for very long. Like most Burt's Bees products a...read more little goes a long way. I put small dabs on my cheecks, forehead, chin, and neck; then I blend in lightly. I noticed if I rub this creme for too long it starts to have a sticky texture to it. I found that if I just smooth it out and then leave it alone it has a skily texture instead of turning sticky. The texture is probably my biggest complaint about this night creme. I'll probably finish this jar, then look for another natural product to replace it with.

Good cream, bad smell

I was looking for a good, natural night cream that my skin would drink in and not be irritated by...I found it in this product. The texture is wonderfully creamy and it did not irritate my sensitive skin. I found the price reasonable and would buy it again if not for the smell. To me it smelled like a bottle of cheap sweet wine gone bad, which was rough on my senses as I tried to fall asleep.
Back
to top