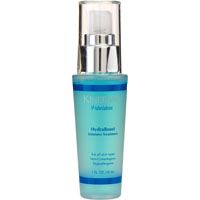 Kinerase HydraBoost Intensive Treatment
As low as
MOISTURE!!

This is one of my most favorite products. I don't usually spend a lot of beauty products, but this product is definitely a must! I get a lot of dry skin around the eyes, and I tried a lot of creams to sooth the eye skin, but it would just end up burning the skin around it and making it more inflamed and dry. Vaseline worked well, but it was so greasy, and I couldn't wear it with my eyeglass...read morees because it would get all over the lenses. I first found this product at sephora, and I bought it for around $75. I fell in love. I had never felt my face feel as soft before, not to mention, my dry eye lids felt relief. I could wear eye shadow without it looking flaky. I could wear eyeliner without feeling the burn. Later, my acne on my face started to get worse, so I started using retin-A. For those that use it, you know how drying that can be to your skin. After I use retin-A, I put the hydraboost on my skin and my skin just soaks it up. I apply my favorite moisturizer after, and my skin will be completely hydrated until my next facial wash. I have tried products that are similar and about $10 cheaper, but it does not keep my skin hydrated. The moisture will evaporate, and I will feel the need to apply more product. Hydraboost by Kinerase was the only product that has given my skin relief from dryness. About a year ago, Sepora stopped carrying it, so I would go to Nordstrom. 6 months later, Nordstrom stopped selling it. Now I have to make a special trip to Ulta to get my favorite moisturizer. It is definitely worth it though!

EVERY TIME I use this I get compliments on my (45 yr old) skin!!

I ran out and tried several other less expensive products but as soon as I went back to this the compliments began...especially from my aesthetician :). I just wish it was less expensive or I could buy it in bulk!
Back
to top