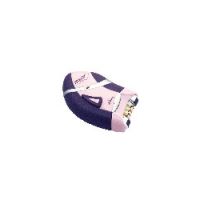 Emjoi Soft Caress Gold Cordless Rechargeable Hair Removal System
As low as
Great way to remove hair!

This is my second epilator. The first one was OK, but it kept eating up batteries like crazy, so I went looking for a rechargable model. Well I found this one and LOVE it!! It's got more tweezer discs than the other one so it removes hair quickly. For the first few months it would hold a charge for a nice long time and recharges fairly quickly. You can also use it plugged in to an outlet, so if it...read more runs out of charge or you forget to recharge it, you can still us it. But after six months or so I found that it's charge wasn't lasting as long and if it isn't fully charged, it doesn't work near as well. So I've ended up using it as a plug in model. Pretty disappointing because this rechargable model was more expensive than the ones you use plugged in - which is now the only way I use it. It really works great though. It removes the hair on my legs with ease and after a few times there is no pain. The first few times it feels kind of like getting snapped with a rubber band. I also use it for the peach fuzz on my upper lip and have to admit that it is a little more sensative in this area, so there is a little more of a sensation of pulling the hairs out. I don't want to say pain because I don't want to scare anyone off, and pain is really too harsh of a word. But be mindful of using it on your upper lip just below your nose. I find this to be the most sensative part of my face and it can often sting a bit. Also, use a gentle cleanser and gentle skin care products on your face after epilating so that you don't get any irritation. I also don't use any body lotion on my legs after epilating. I have never gotten up the courage to use it on my under arms. Guess I'm a little too chicken for that!

It worked great till it died

this was my fist epilator. It removed my hair very good but it has rechargeable battery and it just stop charging. I had to buy another one and this time I bought something that can be plug in.
Back
to top