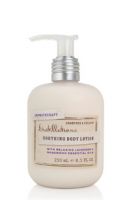 A triple threat to dry skin!

I have to tell you something. My home is loaded with body lotions, body butters, and dry oils right now. I have a ton of them to choose from and that never stops me from trying more. It's an illness-- I tell you! We can never have enough good stuff. Which brings me to tell you about the new Distillations Soothing Body Lotion from Crabtree & Evelyn. This lavender and rosewood essential oil lad...read moreen wonder hydrated my dry arms and left behind a delicious scent. I thought I smelled limes, and I love limes! But really, it's an essential oil blend of lavender and rosewood, tonka, chamomile, vanilla and violet leaf. Perhaps it's just the combination of all of those scents together that created a lime-like scent. Then again, the Hubby told me he didn't smell limes at all. Okay, I'll stop! Other reasons I love this stuff: there's no parabens, mineral oil, synthetic fragrance, colorants, propylene glycol, sodium lauryl or laureth, sulfates. I also love argan oil-- one of the key ingredients, and when it's with olive oil and shea butter like in the Distillations, that's a triple threat to dry skin. I think this would make a great gift for anyone as the packaging is more grown up than your standard Bath & Body Works fare. I did find this to be relaxing and I thought it might even make a nice massage lotion. Give it a try, let me know what you think!

Terrific thick, creamy moisturizer

This is a very thick, dense moisturizer. It is very creamy and feels wonderful. It also absorbs quickly, so you don't have to worry about being slipper, but is still rich and moisturizing. I wasn't too crazy about the lavender scent (too strong), but lotion was hydrating enough that I have continued using it anyway. It's on the expensive side, but it works well.

Fresh Scent and Works Too

This lotion packs a powerful punch. I have super dry skin - especially in this winter weather and this is very soothing without being greasy or sticky. I consider it a luxury lotion. It also has a fresh lemon and coriander scent that is not overpowering.
Back
to top