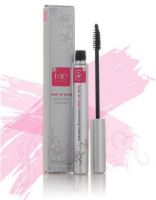 Editor's Rating & Review
While wearing me by {me}zghan look at {me} volumizing mascara, you may get the best compliment -- that your lashes look thick and long but "not like you're wearing any mascara." Another plus: The tubing formula stays clump and flake free for over two months. (You may notice slight clumping in month three but it's nothing a lash comb can't fix.) Easy to remove, the tubes come off with a quick swipe of eye makeup remover. And though this mascara's a bit pricey, it offers great quality at a slightly cheaper price than high-end tubing formulas like
Blinc Kiss Me Mascara
.
Reviewed by Sarah on 12/31/2008

How we review products
Awesome!

BIG fat eyelashes! Love it!

love it

its one of those things that you sdon't know how much you love until you go elsewhere. i'm not sure what the reviewer means by smells wierd. I dont find it to have a scent at all. I have tried blinc and hated it. I found it gooey and heavy. this one is light and no FLAKING!!!!! cant beat that

ew.

i hate this so much. it smells weird, and it doesn't volumize or lenghten at all.
Back
to top