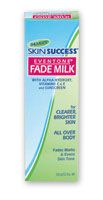 Palmers Skin Sucess Eventone Fade Milk
As low as
best fade lotion i've used

i bought this palmers brand to help get rid of some discoloration due to overexposure to contagions, and it worked beautifully. it's fast absorbing and it moisturizes which is surprising for any fade cream ive ever used. PERFECT.

Eventone Fade "Cream"

I actually have the "Cream", not the "Milk"; but that product is not listed. The cream is very thick and feels just a little greasy. It's the only thing that I've put on my face this week while outside all day sanding & staining our deck. The sunscreen is great, it stayed on with all the sweating. I burn easily and I haven't even turned red. Unfortunately, the "fade" part of the product has not worked for me.